ROBUST INVESTMENT PROCESS
---
Our investment approach is based on rigorous bottom-up security selection coupled with thorough top-down macro analysis.
We manage volatility by investing in less-risky, high-quality companies rather than seeking the highest returns at the expense of risks.
We exploit market inefficiencies in the European credit market by:
selecting securities from companies that are undervalued relative to their fundamental or intrinsic value,
seeking lower volatility than the overall markets, and
actively targeting opportunistic exits.
Our Funds are broadly diversified by sector, country and issuer. We follow strict diversification investment rules.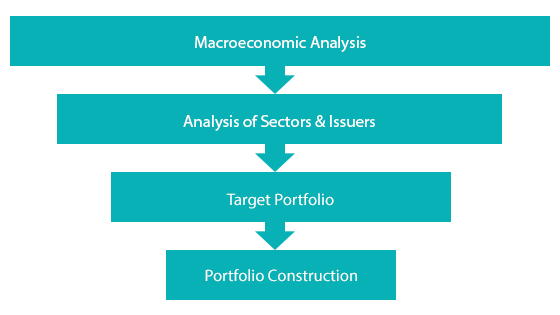 We invest in credit securities of large companies, often multinationals that:
have positive cash flows,
are rated mainly between BB + and B- (S&P) or equivalent,
are exclusively issued in Euros,
are less cyclical companies with structural and recurring growth.